This commercial project was for an electrical engineering company in Yorkshire.
The brief was to create office space to a new first-floor level, with the remaining part having double-height space to facilitate storage of materials.
The principle contractor stripped back the existing roof & prepared the substructure ready for our arrival.
Raised eaves and gable panels were used to the perimeter walls to lift the roofline. This saved time on site & eliminated the need for wet trades to build up to the required wall level.
The building footprint was approximately 9.7m wide & 20m between gables, and the required roof pitch was 30°.
165mm rafter panels were used to span between wall plates.
Ceiling ties & cheek walls were designed in to assist with the spans & associated connection loads. Internal load bearing walls were also introduced deal with the high design loads, this meant the rear part of the building could be uninterrupted double-height space to provide the storage requirements.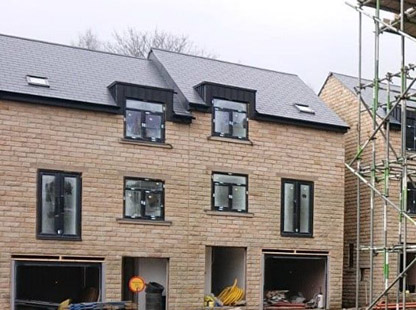 See our latest case study
A housing scheme supported by U-Roof systems for a development in the North of England