U-Roof in full frame applications
Using a U-Roof system in full frame applications has proven time after time to be a fast, simple and affordable way to build.
Whether you are a self-builder embarking on building your own house for the first time, or an architect/developer/contractor looking for cost savings, better performance and safer construction methods that also reduce building time, then U-Roof can help.
Our team of experienced designers can work with you directly or form part of the design team to help coordinate your project to develop your specific project needs and programme requirements.
All our full frames are designed using 3D cad software for maximum accuracy and allow coordination with third party design information. Free model viewing software is also provided to provide our clients with a fully immersive review and coordination experience. In addition, if the project demands compliance with a BIM execution plan, we can offer the appropriate information.
Using U-Roof for full frame incorporates a combination of our load bearing metal stud wall panels, typically using 100mm RCJ stud sections and 103mm plain rail base and head track. Studs are provided as standard complete with service holes for typical electrical wiring installations so no post drilling is required. Service routes can also be provided within floor and roof voids or if appropriate within specific service risers.
Where projects have multiple storeys, our pre-boarded floor cassettes are often used for intermediate floors utilising standard joist sections and joist binder rails. Floor cassettes can be specified and delivered un-boarded if preferred/required by the customer. U-Roof floors can also be designed using loose single-member sections (stick form) for use on sites with limited access, space or where manual handling can only be utilised.  
Where cassettes are ordered pre-boarded, they provide the added benefit of an immediate working platform for follow-on trades once installed.
U-Roof preboarded cassettes can also be left exposed open to the elements for up to 60 days during the construction period, and are tested in accordance with BS 7976-2, the boards are classified as low slip potential in accordance with HSE guidelines.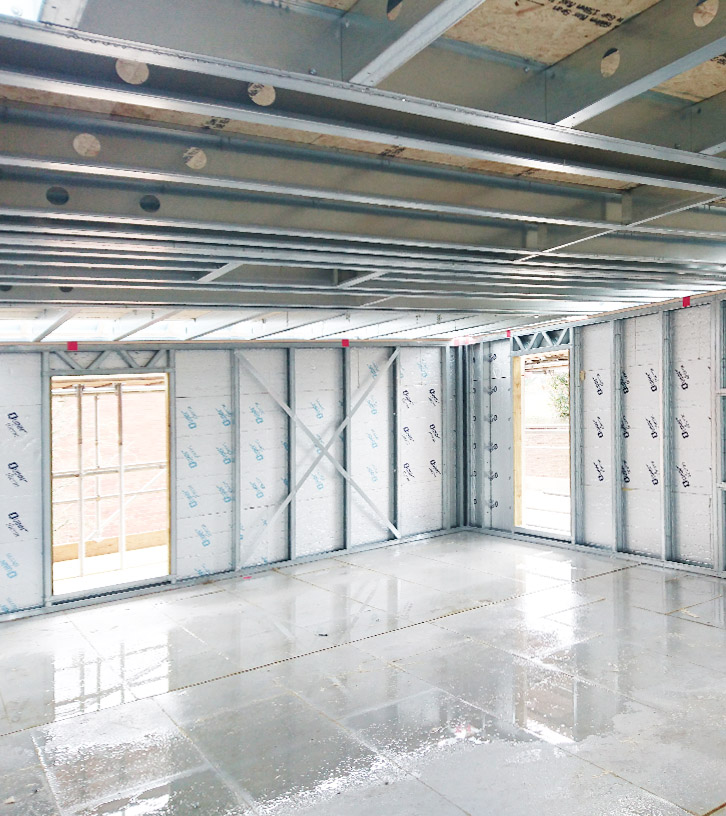 Joist sections can even be designed to include holes for MEP services to provide a fully integrated solution, this, in turn, helps keep floor build-up depths to a minimum for projects where building heights are a critical factor. Floor trimming for stair apertures and larger services can also be incorporated within our cassettes or joist systems for complete design flexibility. Larger services routes such as soil pipes will require consideration at an early design stage.
The roof element combines our standard rafter sections plain rails and the U-Roof patented edge binder rail to connect the rafter panels together to create a fully panelised rafter system. This system is particularly adaptable where complex roof shapes are required and has the unique ability to make structural joint connections at ridges hips and valleys like no other system on the market.
As with our wall panels, service holes for typical electrical installations can also be provided within rafter members to minimise any section drilling on site.
Roofs can take the form of all common roof types be they flat, lean to, duo pitched, hipped, multi-facetted, mansard or incorporate a combination of roof styles. Dormer windows, Velux type roof lights, roof lanterns and roof terraces can also be incorporated to meet the design intent. 
U-Roof full frames are typically ordered and designed as a prefabricated panel system which is delivered to the site in a "flat packed" format on system stillages, however U-Roof full frames can also be supplied in stick form or as a modular package to suit the customer's needs.
Whichever form the frame design takes, fully detailed installation drawings will be provided to the installer or contractor teams to ensure site works run as smoothly as possible.
To find out more or to see how U-Roof can help you on your full frame project, contact one of our experienced team.
Or see our previous projects that use the U-Roof full frame system U-Roof modular
Our system is so versatile…all of our prefabricated frames, whether it be a full frame, roof only system, single storey extension, roof replacement or garden room, they can all be designed, manufactured and supplied in modular kit form.
We can even extend our service by working with you to include building fabric elements to our frames, or work alongside third-party sub-contractors / system providers to provide a complete modular package.
U-Roof can also coordinate and manage deliveries to suit your project needs to ensure operations run smoothly on site, and as with all our frames can be delivered on either a supply and install or supply only basis.
Whichever format is preferred the U-Roof team are able to adapt to meet your requirements.
What are the benefits of using U-Roof for full frame applications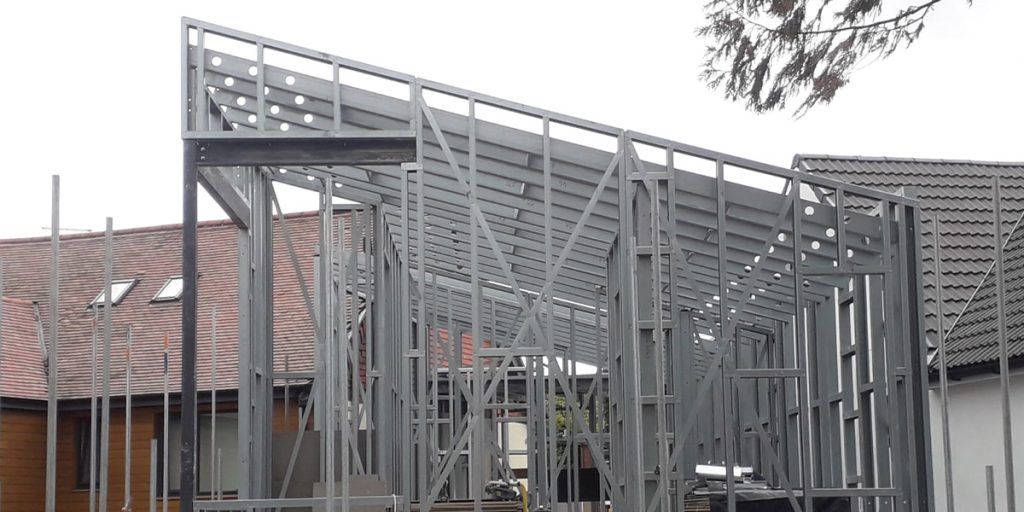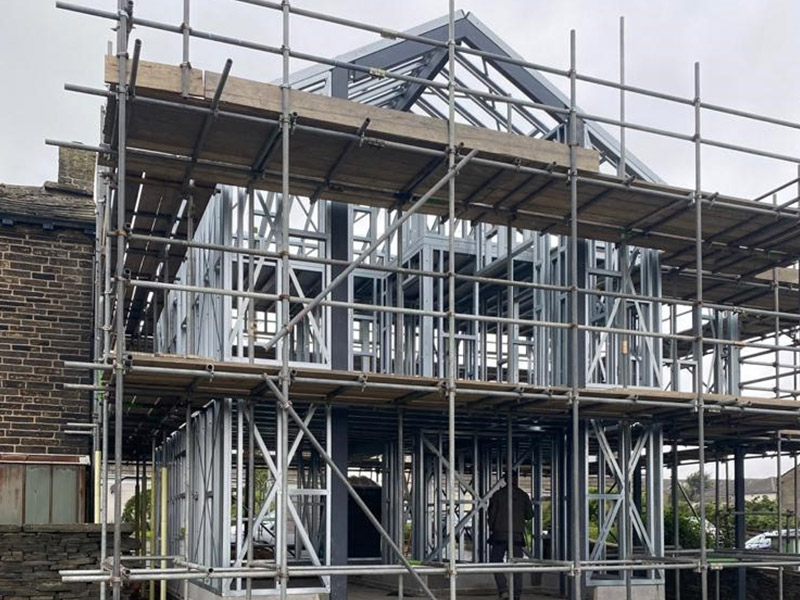 Easy to assemble steel framed buildings
U-Roofs full frame system can be for a range of projects