A roof only frame for a clients workshop in Gloucester, which was purchased on a supply only basis
The brief was to design a pitched roof with a 40° pitch to support 85kg/m² roof tiles, and to provide room in the roof with storage capability with trimming out for access stair provision.
The building spanned circa 5.5m eaves to eaves & 10.4m gable to gable.
Our 165mm steel joists members were used complete with service holes spanning across the width of the building, in conjunction with our 100mm panelised rafter members to provide the primary structure. The joist members and rafter panels have bolted connections at the eaves, and are connected at the ridge via our patented "U" shaped edge binder rail.
An enjoyable project for a wonderful client, & it always makes it worthwhile when we receive customer feedback about our product & service.
"Very pleased with the quality of the roof structure and with all aspects of the service. The design, supporting structural analysis, and delivery were all provided on the promised timescales. All components of the roof were clearly labelled. The assembly drawings supplied were clear and of high quality."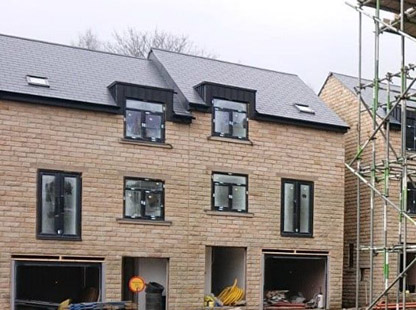 See our latest case study
A housing scheme supported by U-Roof systems for a development in the North of England