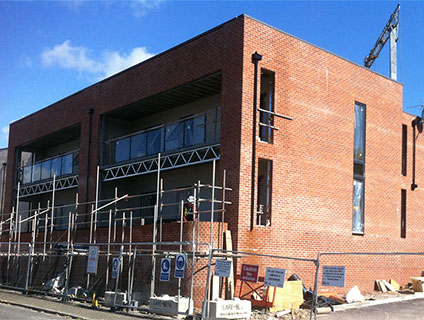 With the need for affordable social housing being a growing issue on the political agenda, the need for efficient construction methods becomes an ever more important consideration.
One example of a mini, steely-eyed, construction revolution in social housing is taking shape on a quiet side street in Salford where a Kier Living North West social housing project showcases a modern method of construction that is fast gaining traction with developers and home builders.
Around 93 tonnes of U-Roof's distinctive, u-shaped steel frame buildings have gone into the new build project which will result in 30 much needed dwellings in two rows of 15 terraces on Fir Street.
According to Tom Boden of Kier, U-Roof is a good fit for social housing developments such as this: "This is a great way of substantially reducing the time taken to complete a development without compromising on structural integrity or quality of build. In fact it's fair to say that U-Roof enhances it."
"It fits together in a fraction of the time and requires far less in the way of tools or building expertise. The clear CAD designs that accompanied this project provided a road map for its completion."
"It resembles a giant Mecanno set," added Tom "and has certainly set tongues wagging around here. Local people have rarely come across such an eye-catching construction that glints in the sun. It's become a temporary landmark!
The project took 12 weeks to complete with the contract worth £327,000 in total to U-Roof.
U-Roof's Estimating and Sales Manager Andrew Hindle commented: "There is an urgent requirement for new build social housing and, as such, approaches that cut down the build time, without impacting on quality, will prove invaluable.
"We are seeing a growing number of major developers recognize the benefits of U-Roof. The economies of scale that can be achieved over multiple homes is impressive and, whilst it can be very difficult to compare like for like, we find that our customers experience an average 20% saving in terms of both cost and time.
"With around 200,000 new homes needed each year just to keep pace with demand, it's clear that systems such as U-Roof can play a real part in addressing the issue," added Andrew.
U-Roof has also supplied the steel framework for another Kier Living North West social housing development on Danesmoor Drive in Bury. Comprising of new build two and three storey blocks with communal areas, lift shaft and three separate bungalows, the Bury project was completed in 10 weeks with approximately 73 tonnes of U-Roof supplied in total.
Kier Site Manager Rob Bennett echoed his Salford colleague's words: "The job on Danesmoor Drive has been one of a kind and has posed many different challenges that we have had to overcome and tackle throughout the process. One big issue was that test data for the use of other products in conjunction with the U-Roof system does not exist so proving evidence of material performance for the warranty providers has been an extremely difficult challenge!
"That said, U-Roof has the potential to be a great product and has a place in future developments such as this. With further development and design it will be a very effective system of build," added Rob
Whilst U-Roof is no panacea to the housing crisis, it is most definitely part of the solution if the Salford and Bury developments are anything to go by.