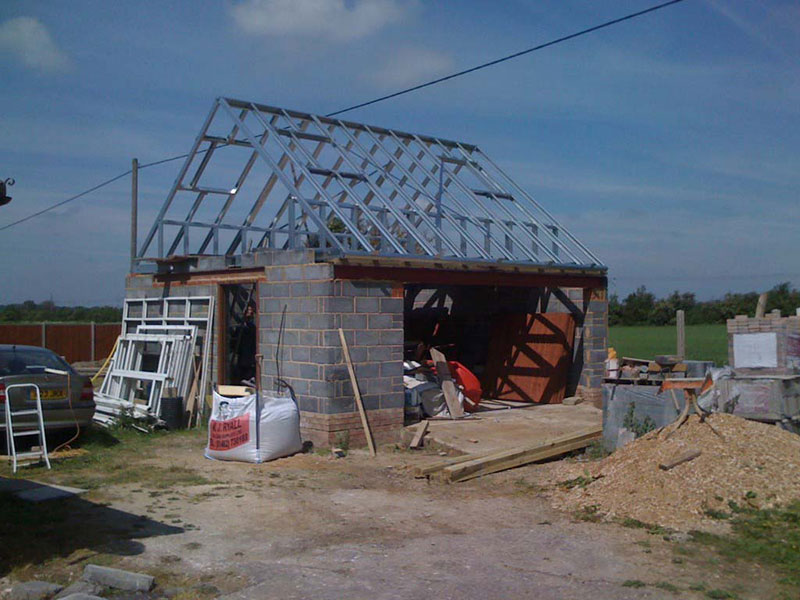 U-Roof is able to offer supply only or supply and fit of various garages, home offices & outbuildings Our outbuilding or garage packages are available as a pitched roof option suitable for flat roof conversions, as roof only options suitable for application onto an alternate method of walling (such as brick & block, ICF, timber frame) – whether flat or pitch roofed, whole shell options ready for assembly onsite onto pre-prepared strip or raft foundations or as an installed option.
The LGSF shell is ready for insulation to be fitted (if a higher spec is desired – perfect for garages with useable office space above) and is suited for a 100-100-100 cavity wall construction with the LGSF shell replacing the inner blockwork leaf.
Considerably lighter than traditional block & brick constructions meaning a reduced specification foundation can be used.
The frame can also be clad with a render board and rendered for single skin applications.
With horizontal battens the units can have a "Yorkshire board" cladding application as shown in the photos.
With no additional timbers or members "shiplap" can be direct fixed to our light gauge steel framework studs.
Garage conversions or multi-use buildings can be created with ease – large spans achievable with versatility of raised eaves options further increasing available, useable floor space.
Please contact us with your specific requirements and let us show you that a perceived high specification product doesn't come with a high specification price tag.