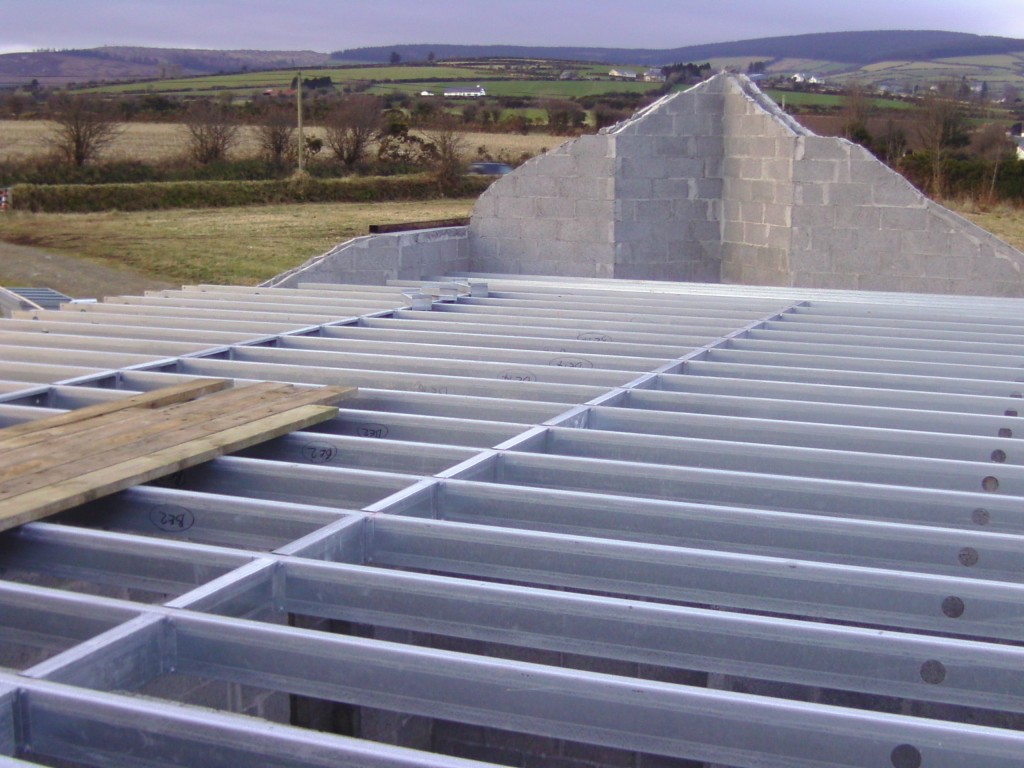 Self builder Mark Higgins, of County Wexford in Ireland, is only too willing to shout from the rooftops about a new steel structure solution that's proven to dramatically ease the stress associated with any homebuilding project!
Mark, a panel beater by trade, has recently completed a one off new-build project for himself in rural Wexford in his weekends with a little bit of help from his father, a local carpenter and U-Roof, a u-shaped 'Meccano' style roofing system manufactured in West Yorkshire.
"The roof covers a 3000 square foot house and it had to incorporate such features as a hip, three dormer roofs and one very odd shaped gable! The building also turns at 30 degrees and so I turned to U-Roof after reading a feature in the home build press and viewing the product close up on the web. The complete solution arrived in one handy load and we set to work over a few weekends to fit together what was effectively a very big jigsaw that was perfectly cut on order to the measurements required and took full account of the strange anomalies. Knowing it's all going to fit together gives you great peace of mind and, suffice to say, the local carpenter was not required on this part of the job!"
U-Roof inventor and founding Director of the Elland-based firm, David Thurston, commented:
"U-Roof is a great fit for projects such as this with no specialist expertise or tools required and it assembles in a fraction of the time taken with timber joists. We are certainly seeing a steady stream of domestic home build projects experience its benefits. The manufacturing process involves steel strip coil cold rolled into the required form, length and shape by specialist machinery and designed specifically to meet every customer's specific needs. We can produce over 10,000 unique roof structures every year using a very bespoke piece of kit!"
According to David, U-Roof ticks all of the boxes for the most up-to-date sustainable building regulations on both sides of the Irish Sea:
"As an offsite, prefabricated, modular roofing system, it offers zero manufacturing wastage and is perfectly suited to enhance and fully maximise the potential usable living space within a domestic dwelling in keeping with the 'room in the roof' that features prominently in the Code for Sustainable Homes. Instituted in May 2008, the code measures the sustainability of a new home against categories of sustainable design, rating the 'whole home' as a complete package. This system delivers a high performance warm roof design but is also effective within cold roof environments and exceeds both British and Irish Government targets for construction energy efficiency with insulation. Any type of traditional and modern roof coverings can be fitted with ease. It fits in perfectly with the ethos and objectives of MMC (Modern Methods of Construction)."
There are further benefits to choosing a designed-to-fit steel roofing system as David went on:
"Being considerably lighter than traditional roofing timbers, the new system offers major health and safety advantages. It is not prone to corrosion, distortion or infestation and also dramatically reduces site delivery by virtue of its flat pack design."
Back in County Wexford, Mark's new build project is a perfect showcase for an innovative solution that he's only too willing to promote:
"I would wholeheartedly recommend steel systems such as this to others if they were in a position to fit it themselves. This would make it both time efficient and cost effective and they are crucial considerations for any self builder."
It appears that this particular construction innovation really does raise the roof for homebuilders everywhere!